Giving
Gift Planning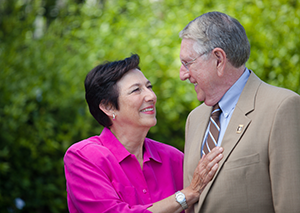 Create a Meaningful Legacy at Scripps Health with Gift Planning
A "planned gift" is a gift that is established in the present time, however Scripps does not receive the full use or benefit of the gift until a future date or event. They are also referred to as deferred gifts. There are several types of planned gifts.

The Gift That Costs You Nothing While You're Alive: Gifts in wills and trusts and beneficiary designations of retirement plans and life insurance are examples of gifts that cost you nothing while you're alive. You retain full use and enjoyment of your assets while you are alive. Scripps doesn't receive the gift until you pass away. They are also referred to as gifts that anyone can afford because you can make a meaningful impact with your gift without impacting yourself or your family. You can make a big difference with very little effort because this type of gift is easy to create and can be completed in a few easy steps. Click here to find out how.

Give and Receive with Life Income Gifts: Life income gifts include charitable gift annuities, life estate gift annuities, and charitable remainder trusts. A charitable gift annuity is contract between you and Scripps in which you make a gift to Scripps, and in return, Scripps pays you a fixed income for the rest of your life. Your annuity payment is based upon your age at the time you make the gift and can be quite high for those age 70 and above. The charitable gift annuity has very attractive tax benefits including an immediate charitable income tax deduction in the year you make the gift plus partially tax free income. Use appreciate stocks or investments to fund your charitable gift annuity and receive the added benefit of avoiding or delaying capital gains taxes. It's a win-win gift. You can increase your income and save lives at the same time. To learn more about charitable gift annuities, please call a Gift Planning Officer at 858-678-7120 or email us at [email protected].

Questions? We're here to help!

The Office of Gift Planning at Scripps Health Foundation welcomes the opportunity to provide you with more information and to educate you and your professional advisors about the many planned giving options. Attend a seminar for donors or professional advisors and allow us to help you create your own meaningful legacy at Scripps Health.

How will you be remembered?
Tools and Resources for Professional Advisors

Donor Stories

Washington News